what you get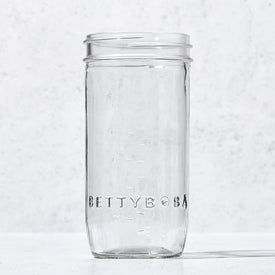 THE JAR
Simple and minimalist but holds its own (up to 24 oz). Made of glass to showcase your favorite drink. Your boba, smoothies, iced coffees and other beverages will taste better without the plastic.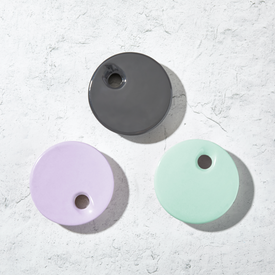 the lid
A stylish and functional patent pending design that's made of ceramic. Choose from three delicious colors to go with any beverage.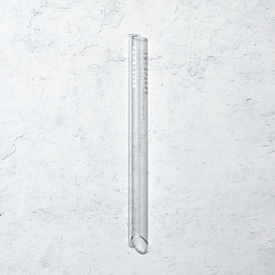 THE STRAW
A bossy glass straw that's just the right size to slurp up your favorite pearls, toppings, smoothies and more. See what you sip.
Enjoy $10 savings with the Betty Boba Essentials Bundle. This must-have bundle is perfect for elevating every moment of your day, from a quick morning coffee run to your afternoon boba adventures.

The bundle includes:

(1) Betty Boba Tumbler: This complete plastic-free set comes with the glass jar that keeps your drinks cool (or warm), a patent pending ceramic lid with a silicon plug, a glass boba straw, and a large straw cleaning brush, all designed perfectly for each other.  Each piece is dishwasher safe for easy care. 

(1) Betty Boba Baggy: A stylish, practical and reusable lavender tote bag, perfect for effortlessly organizing and carrying your daily essentials, including a dedicated compartment to fit the Betty Boba Tumbler. Now it's easier than ever to take your Betty Boba Tumbler on the go! 

Specs:Betty Boba Tumbler: 24 ozBetty Boba Baggy: 7.5 inches H x 9 inches L x 6 inches W 
Let customers speak for us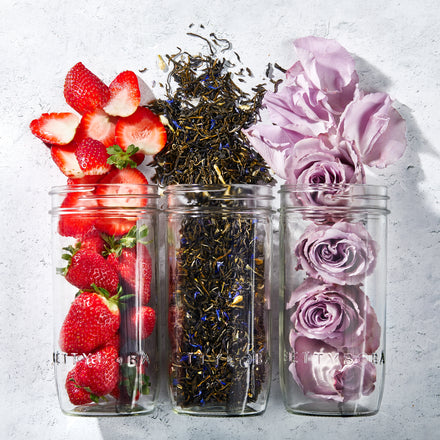 upgrade your boba
Your boba deserves more than a plastic cup. Upgrade it to a Betty Boba Tumbler (before you slurp it up).

Sip it two ways: our patent pending ceramic lid makes it easy to sip directly from the grooved mouthpiece or through our boba-sized straw. It's also designed with a leakproof plug to keep your boba safe while you're on the go. The glass jar and straw add the finishing touches to keep your boba cool (or warm) and refreshing. See (and sip) for yourself. Your boba will thank you, and Mama Earth will be proud of you.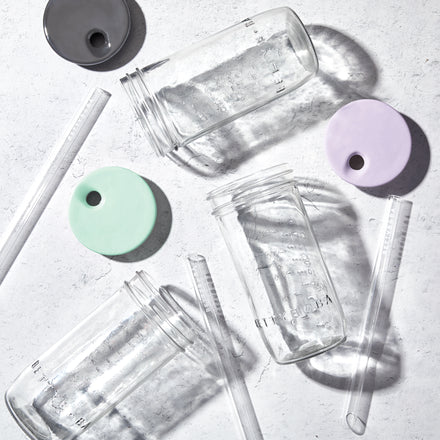 Make it glassy
Betty Boba Tumblers are reusable, dishwasher safe and easy to clean.

Did you know? By using plastic cups, utensils and dishes, you may be consuming up to a credit card's worth of microplastics every week.

Use your glass Betty Boba Tumbler for more than just boba - it's perfect for coffee, smoothies, and matcha, to name a few. Say goodbye to your plastic habits and start taking care of your health and the environment.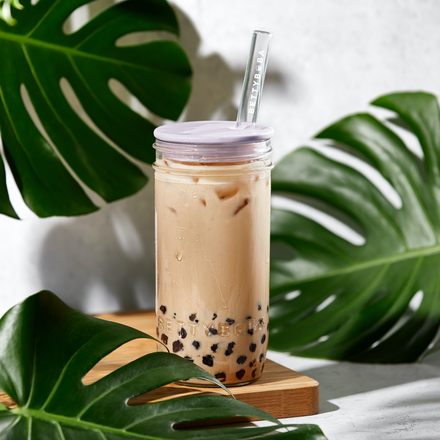 Every Sip Counts
Big change happens by taking many small, intentional steps. Every person who purchases a Betty Boba Tumbler helps us save the planet we love from plastic waste and pollution. Betty Boba will donate a portion of each sale to an organization who is doing its part for a better world.
Check out our FAQs to learn more about the organizations we support.
Testimonials

This is my go-to cup for boba, smoothies, and iced coffees. I love the sleek design and the mint colored lid is so pretty!
– Jane

I love Betty Boba! These sets are so beautiful and functional. I use mine every day for my morning matcha.
– John